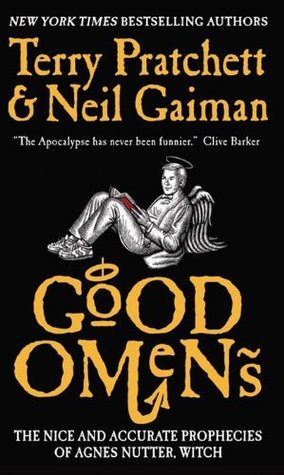 I'm not going to repeat anything from my previous post about why I was reading this (should you wish to find out you can do so here), suffice to say this was my first finished Pratchett.
Basically, the main characters are an angel and a demon who decide that they rather like Earth and humans and wish to stop Armageddon which should be starting in a small, English rural village where the Antichrist is being raised, accidentally and oblivious to his origins and fate.
I'm not a huge fan of the fantasy genre but I promise I did try to approach this with an open mind. I liked it more than I thought I would I just thought it was too long. I wasn't a fan of the "jolly" tone and found the humour quite grating, though I do admit the odd chuckle. Whilst I don't think I've read anything with a similar plot I nonetheless thought there was something not entirely original about it (wrong babies getting swapped in a hospital, supposed baddies that are actually alright, weird but accurate prophecies from the past etc etc). In a word, it was "meh".
2.5 stars